Handbag shocker
PAS leaders also plan to raise the issue of Rosmah's prized handbags, alleged to be worth RM1 million and called on the Malaysian Anti-Corruption Commission to investigate the matter.
"This is not a frivolous issue at all. How can she afford such expensive bags. How come she and Najib can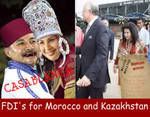 spend so much beyond their means? There are serious issues. The RM1 million can be put to good use in building facilities in the rural towns, giving scholarships and so forth," Mahfuz told Malaysia Chronicle.
Meanwhile, PKR Women's chief and Ampang MP Zuraida Kamaruddin said the "spendthrift" ways of the first couple made nonsense of the warning given by Idris Jala, the minister in the PM's Department, who in 2010 issued a wake-up call to the nation.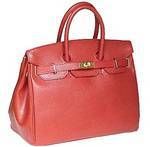 Idris had warned in no certain terms Malaysia could go bankrupt by 2019, the same way as Greece did. Yet instead of biting the bullet and leading the way, Zuraida expressed disappointment that Najib and Rosmah had chosen to "live it up" at the nation's expense.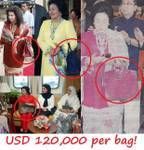 "Things are no longer the same. There is now a strong opposition in Malaysia and we keep questioning and grilling them. They can be stubborn and arrogant but they do so at their own peril. Voters will surely teach them a lesson in the next election," Zuraida told Malaysia Chronicle.
candidate
Like the handbag, Barisan Nasional is also a well-known and trusted brand. It's consistency over the years has made the party what it is today. "Vote for the brand," urged Najib. "The candidate can be an idiot or orang gila, it doesn't matter. As long as you vote for Barisan, you're voting for quality."